Waterstone Farms, Lake Oconee
Lot 14 Waterstone Drive : Madison, GA 30650
Morgan County, Georgia
Expired Listing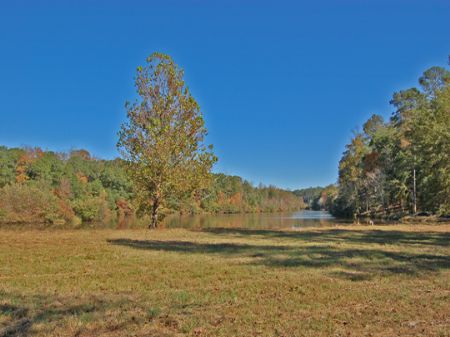 Lot Description
Escape to the quiet side. Lot 14 offers 100' of private lake frontage, with room for a max dock. Gentle slope to the lake with unobstructed views of the pristine waterfront - perfect for a terrace walkout homeplan.

At Waterstone Farms, you'll find tranquil waters, winding trails, towering hardwoods, and a special place for people who value living with nature. Just 10 minutes east of Historic Madison, Georgia, the community offers a select number of lots on beautiful Lake Oconee and 1.5-6 acre estate/equestrian lots. Amenities include day docks and a boat ramp, plus miles of bridle trails.

Waterstone Farms has covenants and architectural guidelines designed to accommodate a variety of budgets and tastes.

• 1800sf minimum for one story, 2200sf minimum for multi-story

• Appropriate styles include Cottage, Craftsman, Farmhouse, Mountain Lodge and Lake House.

• Primary materials for the homes may be stone, cedar, brick, board and batten or fiber cement siding

• Barns, workshops, and RV sheds are permitted - they must be aesthetically complementary to the primary home, but may be made with different materials including metal.

Waterstone Farms promotes a rural lifestyle

• Bridle Trail easement maintains a 30'wide common use pathway around the perimeter and between large equestrian lots

• Gas-powered vehicles are prohibited on the Bridle Trails

• Livestock and poultry are permitted for private use

• All residents can enjoy lake access at the two waterfront common lots

Lake Oconee is Georgia's second largest lake, with more than 19,000 acres of boating and fishing fun. Managed by Georgia Power, Lake Oconee offers stable lake levels year round. Lake Oconee is a Top Ten Golf Resort Destination, with 189 holes of private and public access golf. Georgia's Lake Country offers recreation for the whole family, including golf, boating, fishing, and hunting, as well as equestrian sports. Historic Madison is just 10 minutes from the farm, with quaint shops, fine dining, an active cultural center featuring performing and visual arts, award-winning public schools, and the second largest Historic District in Georgia.