1.25 Acre Vacant Lot in Sun Valley
7767 Shooting Star Rd : Holbrook, AZ 86025
Navajo County, Arizona
Expired Listing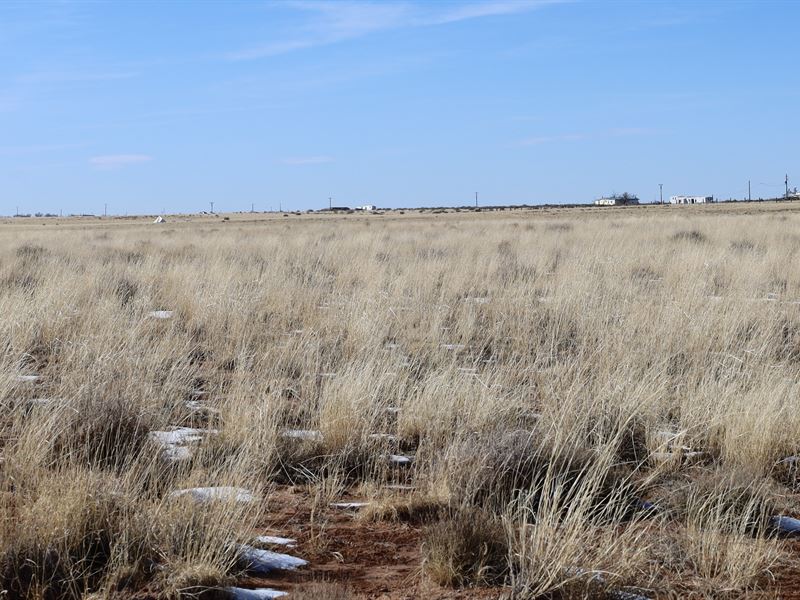 Lot Description
Escape to your very own piece of paradise in Holbrook, Arizona. This stunning 1.25-Acre property is the perfect place to build your dream home, vacation retreat, or investment property.

Enjoy breathtaking views of the surrounding mountains and valleys as you bask in the warm Arizona sun. This lot offers ample space for you to create the perfect outdoor oasis, whether you want to build a pool, garden, or simply relax in the peaceful surroundings.

Located just a short drive from Flagstaff, you'll have easy access to an array of outdoor activities, including hiking, mountain biking, skiing, and more. And with the Grand Canyon is just a few hours away, the possibilities for adventure are endless.

Retirees seeking a peaceful and affordable place to retire will find Holbrook to be the ideal location. The town offers a relaxed pace of life and plenty of opportunities to explore the great outdoors. With a low cost of living and no state income tax, retirees can stretch their retirement savings further while enjoying a high quality of life.

Holbrook offers a unique opportunity for those interested in off-grid living, sustainable agriculture, or simply escaping the hustle and bustle of city life. Don't miss out on the chance to make this beautiful property your own and start living the life you've always dreamed of.

With just a low down payment of and an affordable monthly payment option, you can easily become the proud owner of this amazing property. You can even choose a payment plan between 12-60 months and select a preferred day of the month for your payments to be deducted. We aim to make the process of buying your dream property quick, stress-free, and easy.

Don't miss out on this incredible opportunity to turn your real estate dreams into reality. To learn more about this fantastic property, call our friendly and helpful team anytime.

Property Details

Cash Price: ID: 105-17-004

Address: 7767 Shooting Star Rd

Legal Description: Lot:6 Subd:Ariz Rancho 23 Sec/Twn/Rng/Mer:ec 18 TWN 18N RNG 22E Ariz Rancho 23 Lot 6 MAP Ref:Pm 105-17

City: Holbrook

County: Navajo

State: Arizona

Parcel Size: 1.25 ac

Gps Center Coordinates: 34.9599, -110.0432

Access to Property: Dirt Road

Terrain: Flat

Estimated Yearly Tax Amount: No Hoa/Poa

Zoning Specs: A-General - Site Built homes, mobile homes, churches, barns, etc.

Power: Power in the area, (around half a miles away from the lot)

Water/Sewage: Well needed/Septic needed

Property Specifications

Legal Description: Lot:6 Subd: Ariz Rancho 23 Sec/Twn/Rng/Mer:Sec 18 TWN 18N RNG 22E Ariz Rancho 23 Lot 6 Map Ref:PM 105-17

Single Family: Single family dwellings, agricultural, barns, churches, commercial feedlots, contractor's yard, corrals, educational religious charitable or philanthropic institutions, farms, feed stores (5 acre min), fire & police stations, golf courses & driving ranges, guest houses, home occupations, hospitals, libraries, museums, nurseries, parks, playgrounds, post offices, public schools, public & private forests & wildlife reservations, public riding & boarding stables (10 acre min), quarters for servants & caretakers, roadside stands, tennis courts, utility facilities.

The zoning allows the RV and mobile homes depending on the permit application.

Access & Proximity

The access to the property is via Shooting Start Rd (Dirt Road).

The closest paved road is 0.82 miles away from the property.

The closest freeway/highway is 2.18 miles away from the property.

Power pole is around 950 meters northeast of the property.

Purchase Information

Cash price: Financing Option

Down payment as low as

Choose your preferred payment day between the 1st-28th of the month

Choose a payment term between 12-48 months

Sample computations at 9.9% interest for 12 for 24 for 36 for 48 months

Payment Information

The document processing fee covers all closing costs for in house property closings.

If title company is preferred, document fee applies toward the land purchase price and the buyer pays closing fees.

The down payment can be paid within 7 days of processing the fee payment.

No prepayment penalty.

Payment Methods

Wire transfer, cashier's check, ACH bank draft, credit card, debit card, or cryptocurrency (Bitcoin and Ethereum), or a combination of any of the methods listed.

Buying Process

To secure ownership of the property, all you need to do is pay a non-refundable document processing fee to cover closing costs.

After clicking the blue "Click Here TO Purchase" button and completing the easy checkout process, your payment will be instantly confirmed.

If you choose to use a title company, the will go towards the purchase price of the property, and the buyer will be responsible for paying closing fees.

The document processing fee, down payment and/or remaining balance may be paid using a variety of payment methods, including wire transfer, cashier's check, ACH bank draft, credit card, debit card, or even cryptocurrency such as Bitcoin and Ethereum. You can even use any combination of these payment methods, making it more convenient for you.

The purchase must be completed by paying the down payment or the remaining balance within seven calendar days of the date the document fee is placed. Our streamlined process means that we can complete your purchase in as little as one day, depending on the buyer's pace.

There are no additional closing fees for cash or terms sales if our business handles the closing process for you. Plus, there is no prepayment penalty, so you can pay it off at any time.

The best part is - you don't need to wait until the property is fully paid off to begin using it. As soon as the paperwork is done and you've made your down payment, you are free to start enjoying your new property.

We strive to make the land-buying process as easy and stress-free as possible. If you have any questions or concerns, our friendly and helpful team is always here to assist you in taking the first step toward owning your dream property.

Money-Back Guarantee

Buyers can get a refund within 30 days if they're not pleased with their land for any reason, or they may opt to exchange their parcel for another one within the same timeframe, no questions asked.

Nonetheless, it's important to note that the buyer will be accountable for the fees associated with returning the property.

About Navajo County, Arizona

Navajo County is a county located in the northern part of the state of Arizona in the United States. As of the 2020 Census, the population of Navajo County was estimated to be 111,286. The county seat and largest city is Holbrook.

Navajo County is the second-largest county in Arizona by land area, covering approximately 9,959 square miles (25,785 km²). It is home to a diverse range of landscapes, including the Painted Desert, the Mogollon Rim, and the White Mountains. The county also contains parts of several national forests, including the Apache-Sitgreaves, Coconino, and Tonto National Forests.

The Navajo Nation, the largest Native American reservation in the United States, extends into parts of Navajo County, as well as neighboring Apache, Coconino, and McKinley counties in New Mexico. The Navajo Nation is home to over 300,000 people, with about 50,000 of them living in Navajo County. The Navajo Nation has its own government, which operates in parallel with the county and state governments.

Wildlife & Recreation

Navajo County is a land of stunning natural beauty and diverse wildlife, offering endless opportunities for outdoor recreation. From the high deserts of the Colorado Plateau to the forests of the White Mountains, Navajo County is home to a wide variety of habitats that provide homes to numerous wildlife species, including elk, deer, antelope, coyotes, and various bird species.

In addition to the incredible wildlife, Navajo County offers a wealth of recreational activities for outdoor enthusiasts. Explore the stunning landscape of the Painted Desert or hike along the Mogollon Rim. Enjoy fishing or boating on the Little Colorado River or Show Low Lake, or head to the nearby ski resorts in the White Mountains for a winter sports adventure.

With several state parks and forests, including the Apache-Sitgreaves National Forest and the Tonto National Forest, Navajo County is the perfect destination for hiking, camping, fishing, and hunting. And don't forget to visit the Petrified Forest National Park, where you can enjoy hiking, wildlife viewing, and exploring the unique landscape.

Whether you're a nature lover, an avid hiker, a hunting or fishing enthusiast, or simply looking for an escape into the great outdoors, Navajo County has something for everyone. Don't miss out on this incredible opportunity to experience the beauty and adventure of one of Arizona's most amazing counties.

Visiting the Property

You are more than welcome to visit the property. We recommend that you read all the information on the property posting before visiting, and bring the maps and location coordinates provided below.

GPS Coordinates (approximate)

Northwest Corner: 34.960291, -110.043548

Northeast Corner: 34.960294, -110.042967

Southwest Corner: 34.959379, -110.043543

Southeast Corner: 34.959385, -110.042964

Center Point: 34.9599,-110.0432

Nearby Towns & Cities

Winslow - This city is located about 33 miles northwest of Holbrook along Interstate 40. Winslow is known for its historic downtown area and its association with the Eagles' hit song "Take it Easy".

Snowflake - This town is located about 27 miles south of Holbrook and is known for its historic homes and buildings, as well as its connection to early Mormon pioneers.

Show Low - This city is located about 47 miles south of Holbrook and is known for its outdoor recreation opportunities, including hiking, fishing, and skiing.

Flagstaff - This larger city is located about 90 miles northwest of Holbrook and is a hub for tourism and outdoor recreation in Northern Arizona. Flagstaff is home to several popular attractions, including the Lowell Observatory and the Museum of Northern Arizona.

Nearby Points of Interest

Petrified Forest National Park - This national park is located about 26 miles northeast of Holbrook and is known for its unique and colorful petrified wood formations, as well as its Native American archaeological sites.

Meteor Crater - This impressive natural wonder is located about 50 miles west of Holbrook and is the result of a meteorite impact that occurred approximately 50,000 years ago.

Homolovi State Park - This state park is located just outside of Winslow and features ancient Hopi ruins and petroglyphs, as well as opportunities for hiking and wildlife viewing.

The Wigwam Motel - This iconic roadside motel is located in Holbrook and features distinctive teepee-shaped rooms that have been featured in movies and television shows.

Jackrabbit Trading Post - This famous tourist stop is located just outside of Joseph City and features a giant jackrabbit statue that has become a popular photo opportunity for travelers.

Note: Distances are approximate and may vary depending on the exact location within Williams or the other nearby points of interest.

Nearby Essential Places:

Gas stations - There are several gas stations located along Interstate 40 in Holbrook and nearby towns such as Joseph City and Winslow. The nearest major chain gas station is a Love's Travel Stop located just outside of Holbrook on I-40.

Post office - The Holbrook Post Office is located in downtown Holbrook at 100 W Erie St.

Banks - There are several banks and ATMs located in Holbrook, including Bank of America, Wells Fargo, and Chase.

Grocery stores

Safeway: This is a supermarket chain located at 702 W. Hopi Dr. in Holbrook, Az.

Bashas' Supermarket: This is a family-owned grocery store located at 202 W. Hopi Dr. in Holbrook, Az.

Walmart Supercenter: This is a retail chain located at 770 W. Hopi Dr. in Holbrook, Az.

Circle K: This is a convenience store chain located at 105 Navajo Blvd. in Holbrook, Az.

Holbrook Quick Stop: This is a convenience store located at 821 Navajo Blvd. in Holbrook, Az.

Medical facilities

Little Colorado Medical Center: This is a hospital located at 1501 W. 3rd St. in Holbrook, Az.

Northland Pioneer College Allied Health Center: This is a healthcare training facility located at 1001 W. Deuce of Clubs in Holbrook, Az.

Holbrook Indian Health Service: This is a healthcare clinic located at 1 Hopi Drive in Holbrook, Az.

North Country HealthCare Holbrook: This is a community health center located at 2109 Navajo Blvd. in Holbrook, AZ. It provides primary care, behavioral health, and dental services to people of all ages.

Summit Healthcare Clinic: This is a healthcare clinic located at 3111 N. Rainbow Dr. in Holbrook, AZ. It provides primary care services to patients of all ages.

Schools

Holbrook Unified School District: This is the main school district in Holbrook, AZ. It operates several schools, including Holbrook High School, Holbrook Junior High School, Hulet Elementary School, Park Elementary School, and Indian Wells Elementary School.

Northern Arizona Academy for Career and Technology Education: This is a vocational school located at 1001 W. Deuce of Clubs in Holbrook, AZ. It offers career and technical education programs in fields such as automotive technology, culinary arts, and welding.

Northern Arizona University - Holbrook Campus: This is a branch campus of Northern Arizona University located at 2251 E. Navajo Blvd. in Holbrook, AZ. It offers undergraduate and graduate courses in a variety of fields.

Holbrook Indian School: This is a Seventh-day Adventist boarding school located at 1 Flat Rock Trail in Holbrook, AZ. It provides a Christian education to students in grades K-12.

St. Joseph's Catholic School: This is a private Catholic school located at 424 W. Arizona St. in Holbrook, AZ. It provides a Catholic education to students in grades K-8.

Note: Please note that this vacant land is being sold directly by the owner, and as a buyer, it is your responsibility to perform your own due diligence and research on the property.