Double Lot, Electric & Water Ready
Don Mitchell Ln : Fritch, TX 79036
Moore County, Texas
Expired Listing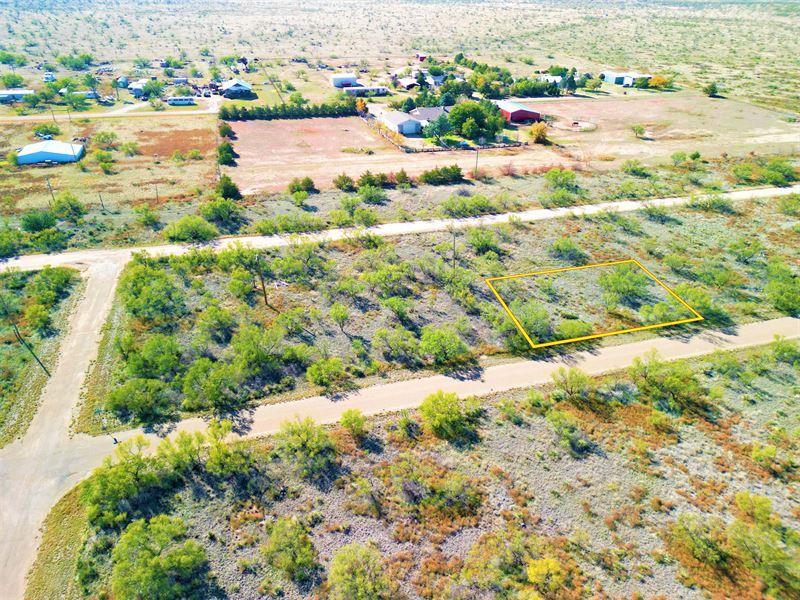 Lot Description
Cash Price: Financing down, then per month for 60 months Plus service fee.

Reservation Fee: non-refundable reservation fee secures this property. Reservation fee will be counted toward purchase price and down payment.

BBB A+ Rating Business: We are a Better Business Bureau Greater Houston Accredited A+ rating business. We ensure our customers have a seamless buying experience built on mutual trust. Call or email us today, ask any questions about our listings or purchase processes, we will help you find the right land.

Buyer Due Diligence: We do our best to ensure listing accuracy. However, buyer is responsible to perform their own due diligence and verify all information, contained herein or not, including access and utility accessibility and costs, and physically visit the property. Property is sold "AS Is".

Purchase Closing

-We provide the best Buyer Protection on your land title.

-Cash Buyer will receive a Warranty Deed.

-Seller Financed Buyer will receive a Warranty Deed + Deed of Trust.

-No fees for Buyer if closing in-house. Buyer responsible for current year and subsequent year property taxes.

Land Description:

6 Minutes to Sanford-Fritch Elementary School

7 Minutes to Lake Meredith

7 Minutes to Phillips 66 Gas station

7 Minutes to Sanford-Fritch Junior High School

18 Minutes to Walmart Supercenter

19 Minutes to Golden Plains Community Hospital

24 Minutes to Hutchinson, Tx

38 Minutes to Thompson Memorial Park

39 Minutes to Amarillo Zoo

40 Minutes to Amarillo, Tx

This 0.20 acre lot in Double Diamond Estates features 120 feet of road frontage. These two lots are large enough for a traditional mobile or manufactured home and have enough room for a septic system with City water & electricity readily available. Located up the hill from the clubhouse, basketball/tennis courts & in-ground pool.

The total lot size is 75 ft x 120 ft - 9,000 sq ft.

For buyers who plan to put a mobile or manufactured home, we recommend purchasing a Double lot to ensure that there's enough room for your manufactured/mobile home and your septic system. Prior to construction, it would be the lot owner's responsibility to check the septic system requirements to meet the state standards (Texas Commission on Environmental Quality).

This area of the neighborhood is located in Section 7 which allows:

-Conventional built residences - 900 sq. ft. minimum floor area, exclusive of porches, stoops, open or closed carports, patios, or garages. (Note: Prior to construction, please check the required state standards with Texas Commission on Environmental Quality).

-Full-Time Motor Homes

-Manufactured homes

-Modular houses

-There is no sewer service - residences must install a state approved septic system.

Maintenance fees are per year with an additional for each adjoining lot. (Adjoining lot means lot much physically touch with no road dividing lots.) A late fee of will be added if maintenance fees are not paid in full by April 15.

Hoa/Poa Information:

Daymun White - Ddpoa Board of Directors

Double Diamond Property Owner Association (Ddpoa)

Address: 110 S Club Drive, PO Box 1054, Fritch, TX 79036

Nearby Attractions:

Lake Meredith:

Lake Meredith is beautiful during all four seasons of the year. Perfect for water sports, picnicking, and fishing during summer and almost mild and perfect for outdoor activities such as hiking, bird-watching, and camping.

Amarillo Zoo:

Best, small zoo around. What's cool is that it doesn't take very long to walk the circular path and you can get very close to the animals. You can even pet the camels if they come over to you and stick their head out. They have monkeys and they have tigers and snakes and ducks in Texas Longhorns, etc.

The Big Texan Steak Ranch:

This place is Amazing. This is home to the 72-ounce steak challenge. Steaks are cooked to where they melt in your mouth. Atmosphere is awesome, friendly service, and the decor is so unique. Definitely worth a try if you're in the area.

Local City Center(s)

Wolflin Square Amarillo, Tx:

Local shopping with specialized flair. Everything from health food to leather goods, and insurance needs. As well as several eateries and boutiques. Great boost to the local economy and small business owners in the Amarillo area. Historic location.

Western Crossing:

This shopping center is very large has everything from Burlington fact. to a Christan bookstore. Even has a Murphy's gas station in a far corner. There is definitely plenty of parking for all stores in the shopping center. Some stores are new as they come and go depending on the season or business it gets.

Utility & 911 Addressing Information:

Electric Utility: Call Xcel Energy

Water and Garbage Utility: Call City of Fritch. A .00 deposit and service fee are required on residential. Tap in is 3/4 inch. Residential garbage service includes one three-yard trash can per four households. garbage. Available services are determined by physical address.

Sewer:

County septic inspector:

Name: Jeremy Blan

Septic Installer in the area:

Bryers Septic Service

Address: 8235 HWY 136, Fritch, Tx

Buyer Due Diligence:

Buyer is responsible for performing their own due diligence in researching the property for sale. All buyers should verify all information, contained herein or not, including access and utility accessibility and costs, and perform physical visits to the lot in order to satisfy themselves as to its accuracy. Seller is not responsible for any misinformation in this ad. All information is deemed reliable but not guaranteed. Property is sold "AS Is".

Land Details:

Elegment ID: Win_Tx_Dde-16378_16379

County/State: Moore County, Texas

Address: Don Mitchell Ln, Fritch, Moore County, Texas 79036

Gps: 35.63365, -101.62684

Parcel Number: 1678/16379

Size: 0.20 Acres

Conveyance: Special Warranty Deed

Flood Zone: No

Annual HOA / PO: per year with an additional for each adjoining lot.