RV & Fishing Lot in Matagorda Bay
Tarpon Dr : Palacios, TX 77465
Jackson County, Texas
Expired Listing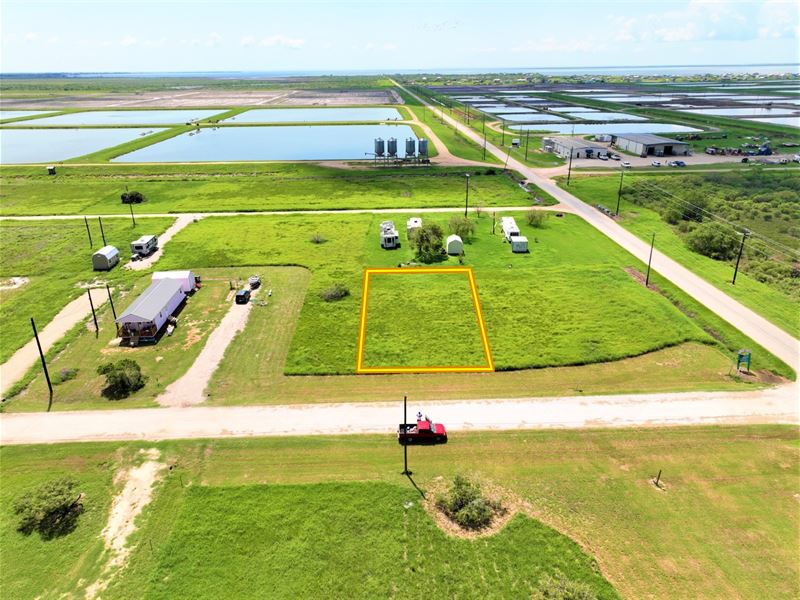 Lot Description
Cash Price: Financing Available: down, then per month for 60 months

(plus service fee)

Reservation Fee: non-refundable reservation fee secures this property. Reservation fee will be counted toward purchase price and down payment.

BBB A+ Rating Business: We are a Better Business Bureau Greater Houston Accredited A+ rating business. We ensure our customers have a seamless buying experience built on mutual trust. Call or email us today, ask any questions about our listings or purchase processes, we will help you find the right land.

Property Overview:

2 Minutes to Boca Chica Community Park

3 Minutes to Boca Chica Boat Ramp & Park on Carancahua Bay

10 Minutes to Matagorda Bay

11 Minutes to Palacios Bayside RV Camp 11 minutes

10 Minutes to Palacios, Tx

11 Minutes to Palacios Bayside RV Camp

14 Minutes to Palacios High School

24 Minutes to Fishing Pier Park

34 Minutes to Le Tulle Park

57 Minutes to Matagorda Bay Nature Park

1 Hour 56 Minutes to Houston, Tx

Great location in the Laid-Back Fishing Community of Boca Chica just 10 minutes from Palacios, TX. Community comes with access to 4 launch points on Carancahua Bay for great salt-water fishing. Water, sewer, electric, internet, and trash service are all available (details below), with reasonable community association fees of per year.

The total lot size is 70 ft x 131.25 ft - 9,187 sq feet. Permits to install a culvert and park your RV can be obtained through the property owners association.

Boca Chica is located on the Bay and also next door to fish farms with ponds that breed striped bass and red drum.

Boca Chica offers several amenities including Fishermans Village Restaurant & Store, Swimming Pool, public parks, and multiple boat ramps launching onto Carancahua Bay. Annual Fishing Tournaments and Pig Roast. Great fishing for redfish, trout, drum, and flounder.

Bring your RVs, Boats, Golf Carts, Side by Sides, ATVs.

Light Restrictions: The property is situated in Section 5, which allows:

RVs (only have to be moved once per 6 months)

Mobile Campers (travel trailers)

Fifth Wheel Trailers (must be self-contained)

Folding Tent Trailers

Motor Homes

Mobile Homes are not allowed in the community. Property owners need to keep their lots mowed for the aesthetic of the neighborhood.

No time limit to start building. Once you start, it should complete in 6 months. Minimum 700 square-footage requirements on permanent residences:

Tiny Homes

Barndominiums

Fishing Compounds

Man Caves

Utility Sheds and Shops

Nearby Attractions:

Le Tulle Park:

34 minutes away from the property, Le Tulle Park is an amazing park where you can go for spend time with your family. A very nice and peaceful place where you can have a picnic under a tree by the pond.

Fishing Pier Park:

Great place to fish or just chill and watch the action. Nice fish cleaning station. Playground and splash pad for the kids. Plenty of covered picnic tables with barbecues at the end of the pier.

Matagorda Bay Nature Park:

Matagorda Bay Nature Park offers a wide range of recreation activities to choose from. Spot local wildlife, putt a hole-in-one, kayak the wetlands or join an adventure tour. You can bring your RV or stay overnight in one of the Airstreams for a unique beach retreat where the Colorado River meets the Gulf of Mexico.

Utility Information:

Electric Utility: Call Jackson Electric Co-Op.

Water Utility: Call Tri-County Point Owners Association. Water Tap fees amount to for the Connection & Application fee. Fees & amounts subject to change.

Sewer: Call Tri-County Point Owners Association. Sewer Tap fees amount to for the Connection & Application fee. Fees & amounts subject to change.

Buyer is responsible for performing their own due diligence in researching the property for sale. All buyers should verify all information, contained herein or not, including access and utility accessibility and costs, and perform physical visits to the lot in order to satisfy themselves as to its accuracy. Seller is not responsible for any misinformation in this ad. All information is deemed reliable but not guaranteed. Property is sold As Is.

Property details:

Property Name: Win_Tx_Boca_Chica_Cantu43271

State: Texas

Size: 0.23 Acres

County: Jackson County

Address: Tarpon Dr. Palacios, TX 77465

Gps: 28.69036, -96.38117

Property ID: R12609

Conveyance: Warranty Deed

Annual Taxes: (approximate)

Annual HOA / PO:

Note: This property is in the flood zone (Beach property). Neighborhood has drainage easements located throughout and frequent utility maintenance.