2.44 Acres with Power & Internet
Mountain Quail Ln : Chiloquin, OR 97624
Klamath County, Oregon
Expired Listing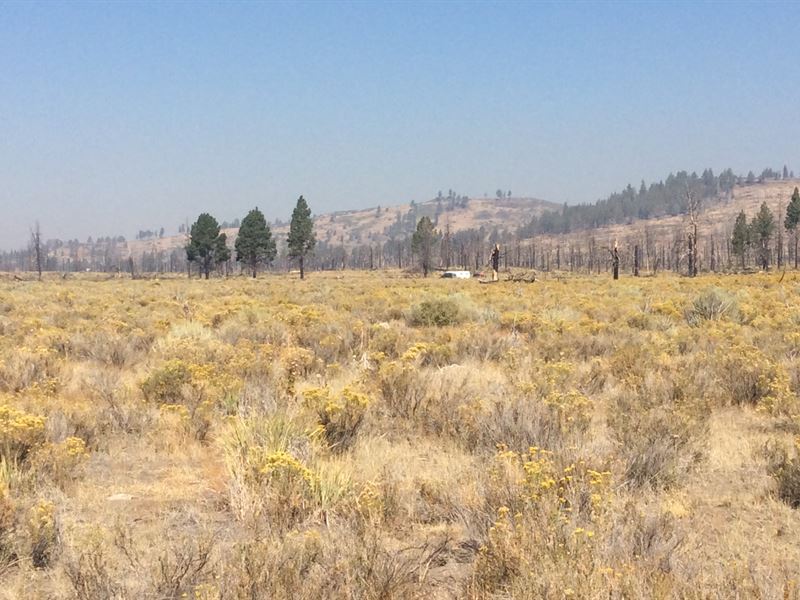 Lot Description
Own 2.44 acres in Klamath Forest Estates and get away from it all - but you will have power and internet to stay connected to the real world. This flat property is perfect to build or camp and the views are amazing. Whether you decide to make this a permanent home or hold on to it for a future retirement, you cant go wrong with a place this beautiful. Close to Sprague River and Klamath Falls to stock up when you need to, then retreat back to your private getaway and enjoy the fresh air and quiet of the Oregon wilderness.

This is the perfect location for someone who wants to get away from it all and just enjoy nature. You can experience all the wildlife in the area plus great hunting and fishing at your doorstep. Ritter Reservoir and Mallory Reservoir are only a few miles away so grab your rod and reel or paddle board and spend the day. Sprague River and Upper Klamath Lake are also within an hours drive and provide tons of fun for the whole family.

At only a month this property is a steal. Make an investment in your future and fun on the weekends with friends and family now. Spend your weekends in the wilderness and start dreaming of building your dream home. There is no time limit to build…so take your time and plan the perfect home and just spend weekends and holidays camping or RV'ing in this gorgeous area.

Adventures await in nearby Lakes and Sprague River or the Multiple national forests that surround the area. Imagine pulling up in your RV or truck and spend Every beautiful summer weekend here. You are welcome to visit the property any time, the google map, plat map and GPS coordinates are below so you can find it easily.

Check out the pictures and imagine getting to relax and rewind with great mountain views of plenty of open space anytime you want. Want to see a video of the property? Email, call or text me.

Check below for just a few of the things Klamath County, Oregon has to offer below and get ready to have fun in all 4 seasons.

Far enough away to get the privacy that you want, but close enough to visit all the time.

Zoning: Residential - Residential - minimum 300 square feet

Camping- 21 days for 6 months period - 42 days total in a year

RV- 21 days for 6 months period - 42 days total in a year

Water: Possible Well or Water Hauling

Septic: Septic can be installed

Power: Power Lines are Nearby. Internet box is ON the property.

Address: Mountain Quail Ln, Sprague River, Or.

Nw Gps: 42.524703, -121.489871

Ne Gps: 42.524699, -121.48909

Sw Gps: 42.523329, -121.489906

Se Gps: 42.523325, -121.489117

Nearby Cities:

Sprague River (6.3 miles, 19 minutes)

Altamont (41.7 miles 1 hr)

Ashland (105 miles 2hr 20min)

Portland, OR (278 miles , 4hr 44 min)

Check out the pictures of this gorgeous property and imagine getting to spend as much Time here as you want.

Want to see a video? Email, call or text me and I'll send you the files.

PRICING: Discount Cash Price: plus a one time document fee or alternatively…

Owner Financing Price: Minimum of as document/set up fee and of equity for a total of down and prepayment penalties and NO hidden fees. We are flexible and can make this fit any budget if you can meet our minimum downpayment and monthly payment for this property. Eric and I are family men and enjoy making land ownership available to families like ours who want to make memories for years to come. we can owner finance with a land contract. If paying in cash, we can transfer with a warranty deed and guarantee a clean title.

CONTACT Kristy Today.