Incredible Hilltop, Utils, $325/M
484 Vereda Atun : Rio Rico, AZ 85648
Santa Cruz County, Arizona
Expired Listing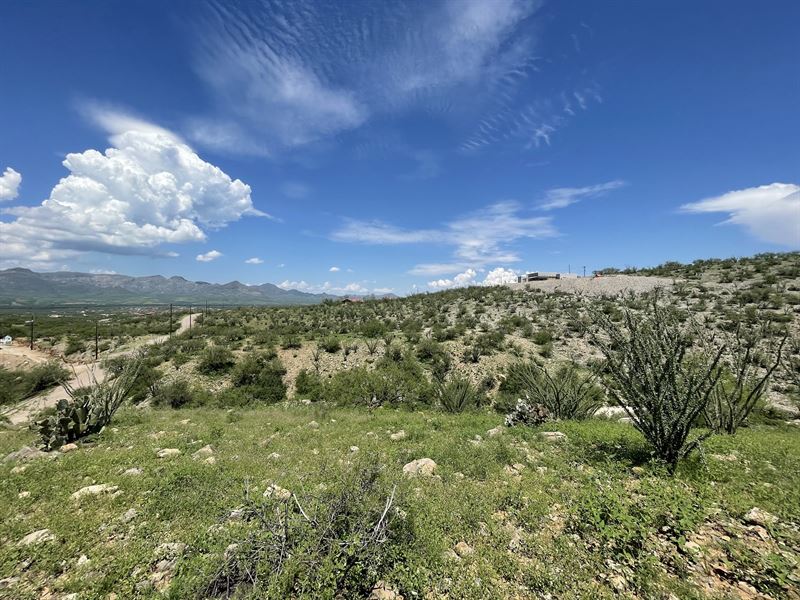 Lot Description
Please read the entire description thoroughly, to avoid redundant questions.

Here is an incredible home site / view lot in the NE section of Rio Rico, 1 hour south of Tucson.

This is a hill top lot with never-to-be-obstructed awesome panoramic views.

This will require a driveway construction from the western corner of the property to the building area at center of lot.

Be sure to look closely at all the maps attached at bottom of description, and enlarge all pictures in gallery on top.

There is a newly constructed home across the street, power and water are available.

This is a gorgeous private location, but with quick access to the freeway.

Buy with confidence... I'm a Pro - not a novice. I've been in the land business for close to 20 years, with thousands of properties sold.

As we speak, there is a lot of new home construction in this area.

This is a great investment and a fantastic home site, for a really low price...

I am also offering owner Finance if needed.

I know this area well. Vacant land is selling quickly in this area now.

You will not find such a nice property at this price - most definitely not with owner finance.

There are neighboring home across the street, and more throughout the area.

Free and clear marketable title is guaranteed, and all taxes are paid up to date.

Good schools, restaurants, banks, supermarkets in Rio Rico are within 20 minutes of the property.

Here's A Short Recap About The Area:

Rio Rico is a planned community located in Santa Cruz County, 57 miles south of Tucson and 12 miles north of Mexico. The community's 39,000 acres roll gently down from the Santa Rita Mountains through the San Cayetano Foothills westward to the Santa Cruz River. The area around and including Rio Rico was once part of a tract of the "Baca Float", a tract of approximately 100,000 acres granted by the U. S. Congress to the heirs of Luis Maria Baca as the result of an early, unclear grant from the Spanish government.

The community had its beginnings in 1969 and continues to grow at a steady pace. Once a sleepy border community, Rio Rico is now growing at a rapid and consistent rate of 7% annually. According to US Census figures the population in 1990 was 1,407, growing to 10,413 in the year 2,000; and now Rio Rico Utilities reports that they are extending water service to nearly 20,000 residents. In 2017, the median household income of Rio Rico residents was at an elevation of 4000 ft. gives Rio Rico a moderate climate throughout the year. Summer highs are from the 90's to low 100'S and winter, a little colder due to higher elevation, ranges from low 30's to high 60's. There are two lakes located in area. Rio Rico has an excellent school system (one high school, two middle schools, two elementary schools and one preschool). Rio Rico is approximately one hour from Tucson, one hour from Sierra Vista and 25 minutes from the Patagonia Mountains. Some of the best golf courses in southern Arizona are located in our area. Rio Rico is active in sports and houses State Champion Little League teams.

This area keeps a high building standards...No camping in Rv's - No Trailers - No mobile homes.

There is NO Hoa/Poa, and no time limit to build.

Santa Cruz county Apn: 133-05-008

Rio Rico Ranchettes Unit 17 Lot 8 Block 513

Property dimensions: 300' X 308 ' X 180' feet.

Power & Water are on the street. Sewer is by septic.

Pictures:

All pictures taken by me at the property last month.

Also see maps attached in files below, right under "Land Maps & Attachments".

As always, free and clear marketable title is guaranteed.

Title will be conveyed via a warranty deed upon completion of payments.

Annual taxes are Taxes are paid up to date.

If you need financing, here are the terms:

Purchase price: get started: A Down Payment of + Closing Costs shall be paid via Paypal.

I will send the buyer a Paypal invoice upon being notified you are ready to purchase this property.

Down Payment will be deducted from Purchase Price and I will owner finance the remaining balance of in 20 monthly payments of per month for prepayment of property tax shall be added to monthly payment.

A contract for deed will be sent to buyer upon receipt of Down Payment and Doc Fee.

A discount of for paying in full within 6 months.

When/if ready to buy, these are the steps of the purchase process:

1. Buyers email me their full name and address.

2. I then prepare the contract and email it along with the Paypal invoice for the initial amount to get started.

3. That payment must be submitted promptly, and I then mark the Listing Sold.

Note:

There is no pressure to buy. Please don't send an email saying you are ready to proceed, if in fact you're not...I'm a very busy guy, "Drills" are unwelcome and unnecessary.... I have sold thousands of properties, so I know how to do this :)

Note for contract buyers:

Buyers cannot begin any construction while on contract.

To be perfectly clear, in no uncertain terms... I am selling "vacant Land" - not entering into a "Landlord-Tenant" relationship...

That being said, if your intention is to develop this land right away - then you must also pay for it in full right away - 100% use requires 100% ownership.