Commercial Restaurant Business
300 N Walnut : Clarksville, TX 75426
Red River County, Texas
Expired Listing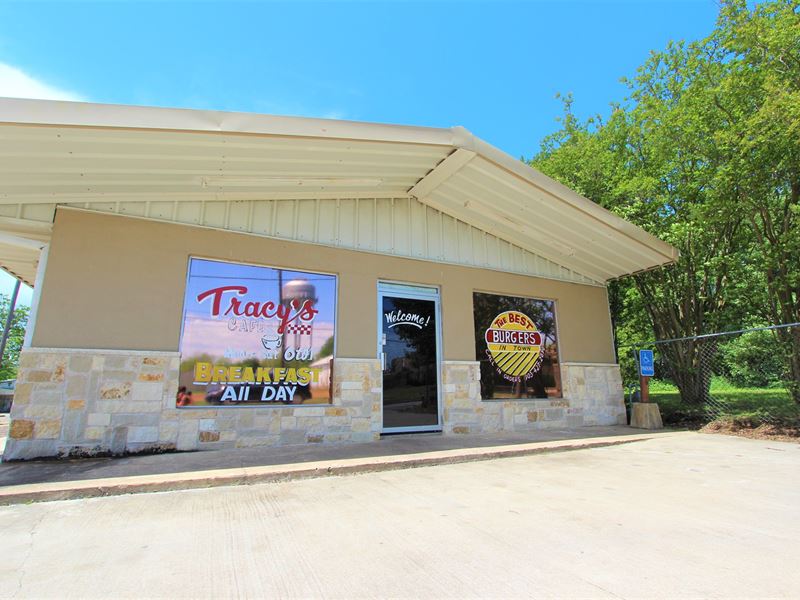 Lot Description
Commercial Restaurant Business For Auction Clarksville Texas

Auction Details Bidding Open Now Through September 17th at 5 PM Cst

Preview Day September 5th from 10 AM to 2 Pm

Opening Bid Premium 10 Co-Op Fee 2

Michael Strunc Auctioneer TX License 18087 Award Winning Restaurant for Auction in Historical Clarksville TX. This beautiful Caf ' has been in business for Over 46 years, serving the people of Red River County. Located in downtown, beside boutiques and other attractions, this 2100 SQ FT. building has a lot to offer. Large showroom for serving nice size groups of customers. This asking price includes real estate and business equipment, furnishings, etc. To the loyal customer base to the Historic character, this 3rd generation business is waiting for it's new owner. 300 N Walnut, Clarksville Texas 75426

Terms and Conditions of Auction

Seller s are serious about selling each property at this auction, but reserve the right to accept or reject the final bid. Each bid shall constitute an offer to purchase, and the final bid, if accepted by the Seller s, shall constitute a binding contract between the Seller s and Buyer s. Conduction of the auction and increments of bidding are at the direction and discretion of United Country - AltaTerra Realty & Auction, LLC AltaTerra and/or the auctioneers. The successful bidder must enter into a purchase agreement the day of the auction immediately following the conclusion of bidding. The Seller s will have 72 hours to accept or reject the purchase agreement.

Property is sold As IS - Where IS and Buyer s should take time to examine this property thoroughly and rely on their own judgment. The only guarantee from the seller s is a valid, good and marketable title to the property. The sale of the property is subject to any and all easements of record. The Seller s, AltaTerra, the Auctioneers, nor their Associates are giving any warranties other than the Seller s Title Warranty.

Buyer s must conduct their own inspections at their own expense prior to bidding at the auction. AltaTerra, Auctioneers or its agents are not responsible for any representation made by Seller s or their employees and are not responsible for accidents on the sale property should any occur.

Buyer s and Seller s will enter into a standard format Contract for the Sale of Real Estate on the day of auction. A 10 Buyer's Premium will apply at this sale and it will be added to the bid price to arrive at the contract purchase price. The contract will call for a 10 down payment in the form of cash, cashier's check or personal/company check with valid photo ID with the balance of the purchase price due, in certified funds, on or before the closing date specified in the Contract. Contracts will contain no financing or inspection contingencies and the Buyer s must have their own financing and make their own inspections prior to bidding at this auction. Escrow payments will be made payable to Gooding Title Co., 228 N Walnut St. Clarksville, TX 75426. Seller s will furnish title insurance in the amount of the selling price and deliver title by Warranty Deed. Any survey, if required, will be at Buyer s expense. Taxes will be pro-rated up to day of closing. Customary closing fees will apply to both Seller s and Buyer s transactions.

All Personal Property applicable and not being sold or conveyed is to be removed from Property by day of closing and funding. AltaTerra and/or its representatives are not responsible for accidents, thefts or losses. All sale descriptions and information are given to the best of our ability. All items are sold As-Is With NO Warranty Stated OR Implied.

Announcements and notices made by AltaTerra and/or their auctioneers during the time of the auction take precedence over any previously printed materials or any other oral statements made. A Buyer's Broker Fee of 2 will be paid to a properly registered real estate broker licensed to do business in the State of Texas.