Recreational Land Lot Northern
Lot 29 W Ackley Pond Road : Mount Chase, ME 04765
Penobscot County, Maine
Expired Listing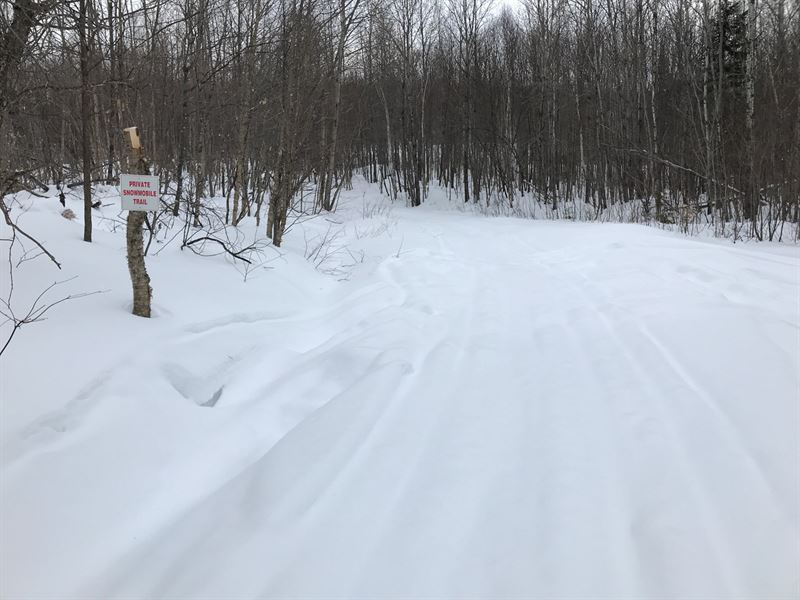 Lot Description
Lot 29West Ackley Pond Rd

The 19.21+-Acre wood lot located about 2 miles off of the Owlsboro Rd is a recently harvested recreational property. The lot was cut in the winter of 2020 leaving a stand of mixed hardwood species. White, grey and yellow birch as well as maple and poplar make up the majority of the stand. Situated directly on an atv and snowmobile trail, the property is well suited for either a recreational cabin location or a long-term firewood lot. The property has very good soils and the trees grow well.

The parcel sits near the base of Wadsworth Mountain and slopes away from the mountain. Panoramic views of the mountain can be had with proper site selection for a cabin. The ATV and snowmobile trail network are accessible right from the property as the trails pass right by the property. The international Appalachian Trail passes alongside the property.

The property is surrounded by thousands of acres of undeveloped forest land that is open to hunting. Large whitetail deer, bear and moose are harvested every year from the forests surrounding this parcel. The early successional forest is prime ruffed grouse habitat, and good numbers of this game bird are found here

This is a very nice lot with good access and very nice views. Call today and make it yours.

Mount Chase Area

Mount Chase is a small Maine town of 201 residents. Mount Chase is located 10 miles north of the town of Patten, Maine. The town gets its name from the 2440-Foot-Tall peak of that name that is part of the Appalachian range. The International Appalachian Trail passes through the area from the Canadian Maritimes to its southern ending in the state of Georgia.

The area is a mixture of dense forested tracts and rich farm soils. The major industries in the area are farming, timber harvesting, and outdoor recreation. Hunting, fishing, hiking, snowmobile and atv trail riding can all be enjoyed here. There are several lodges and guides in the area that make a living helping others enjoy the woods and waters of the area.

A vast ATV and snowmobile trail network passes through Mount Chase with residents and visitors alike enjoying time along the trail with the panoramic views of the area mountain range and deep river valleys. The Katahdin Woods and Waters scenic byway passes through town.

Mount Chase is along the northern entrance to Baxter State Park. It is also located close to the new Katahdin Woods and Water National monument.