Nice, Power, Easy Access, $195/M
Nevin Road : Twentynine Palms, CA 92277
San Bernardino County, California
Expired Listing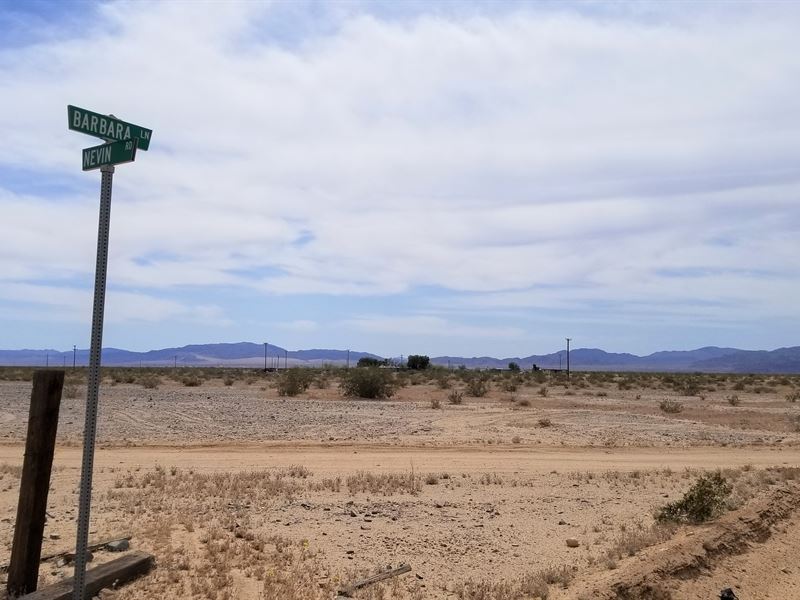 Lot Description
Here's a great 5 acre parcel on Nevin Road near Barbara Lane in beautiful Wonder Valley.

The property has super nice views to every direction and easy access on Naborly Road, less than 2 miles off Paved Amboy Road.

Nice and private location, yet close enough to all amenities in the city of Twentynine Palms.

Power at lot line. on Nevin Road in front of the lot, as well as along the southern boundary of parcel.

Great Access - Buildable - Awesome Stargazing

Parcels of this quality are rarely seen at this low price.

Friendly and Professional Purchase Process - Guaranteed.

Property Information:

Apn 0627-0000 San Bernardino County - Coordinates NW Corner: 34.190719, -115.873210

Size: 5 Acres. Lot dimensions are 330' X 660' feet.

There is a 20' X 25' feet concrete pad at the south end of the lot with some junk on it... see picture.

Please open all the maps attached in files at the bottom of listing, under Land Maps & Attachments.

Terrain: Level.

Access: Nevin Road.

Zoning: Residential.

Water: Common options for household water would be: A) Drilling a well. B) Have it hauled to a storage tank.

Sewer: By installing a septic system.

Utilities: Overhead power is in front of the property as well as at rear of property.

Time Limit to Build: None

Association Dues: None

Title: Free and clear and will be conveyed by a Grant Deed.

Annual taxes: Taxes are paid current.

Purchase Price: Shall pay a Down Payment of + Closing Costs of via Paypal.

I will email the buyer a Paypal invoice for upon being notified you wish to purchase this land.

Down Payment will be deducted from Purchase Price.

We will owner finance the remaining balance of on a Contract for Deed at one of the 3 following options:

A) 12 months 0% interest, per month.

B) 24 months 3% interest, per month.

A) 36 months 5% interest, per per month shall be added for prepayment of property taxes.

A Contract for Deed will be promptly sent to the buyer upon receipt of Down Payment.

A Grant Deed will be issued upon completion of payments.

Free and clear title is guaranteed and we always pay our taxes on time.

Note:

I encourage my buyers to use the land while on contract, enjoy it, make small improvements, etc.

I am selling vacant land, not entering into a "Landlord/Tenant" relationship...

That being said, if your intention is to live on this land right away - then you must also pay for it in full right away - 100% use requires 100% ownership.

I need to mention this because I've had a few folks who presumptuously assumed since they paid a few hundred dollars to get into a land contract, they can now "move right in" and do as they please...