Nice Mobile Home Lot, Only $75/Mo
E El Reposo Drive : Douglas, AZ 85607
Cochise County, Arizona
Expired Listing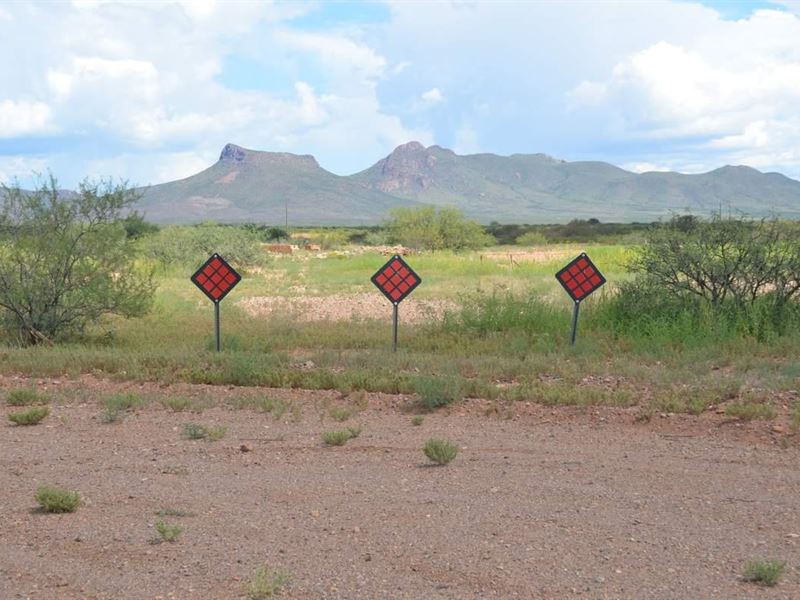 Lot Description
I am liquidating the rest of my inventory here at giveaway prices.

This is a great deal on a fantastic large build-able corner lot.

The property is 5 miles north of Douglas.

Douglas is now designated as an ''opportunity zone'', as many areas have throughout all 50 states. This should potentially re-energize the county, increase desirability for developers and investors, and ultimately resulting in increased land values.

This 15,500 square foot lot is at the intersection of N La Sangre Circle & E El Reposo Drive.

The property is located in a nice and quiet subdivision less than 10 minutes from all amenities in Douglas, which include a Walmart Super-Center.

As seen in Pictures and maps, the parcel is on a nice maintained road and can be driven to in any type of car.

Be sure to open all the maps attached in files at the bottom of listing, under Land Maps & Attachments.

This Lot is approved for any type of Site Built Home, Modular Home, or a Mobile Home.

Please take your time to look at the maps and actual pictures. This is a nice affordable lot - with great potential - and has awesome views.

Actual pictures were taken by me at the lot.

Property Details -

Parcel size: Lot dimensions are approx 120' X 130' X 120' X 105' feet (see plat map attached below).

APN: 406-27-547. Legal Description: Cochise College Park 9 Lot 2633

Coordinates NW corner: 31.390036, -109.526679

Zoning: Residential M H-72.

Road Access: County Maintained Road.

Power: Off Grid.

Water: A very commonly used inexpensive option for Household Water here, is having it hauled from Maddux and Sons in Douglas. Costs around for 3,000 gallons. And/or installing a Low-water-use Rain Catchment system which is becoming more popular as well as a very inexpensive option to sustain a home with low water usage.

Sewer: By installing a septic system upon county approval. Septic systems are not a problem as the soil in the whole region does well for the soil analysis test required for a septic system.

Yearly property taxes are only and paid current.

I can finance this purchase on a Contract for Deed at the following terms:

Purchase price: get started: A Down Payment of + Closing Costs shall be paid via Paypal.

I will send the buyer a Paypal invoice upon being notified you wish to purchase this property.

We will owner finance the remaining balance of in 17 monthly payments of per month.

Upon completion of payments, I will record a Free and Clear Warranty Deed free. No Back Taxes, Guaranteed.

Note:

Buyers are encouraged to enjoy the land and make small improvements while making payments.

However, "Residing" on this land full time is NOT permitted until it's paid for in full, and title in buyer's name.

Reasons are quite obvious but I can explain if necessary...