Nice, Many Trees, Ez Access, $195/M
Rubber Duck Lane : White Mountain Lake, AZ 85901
Navajo County, Arizona
Expired Listing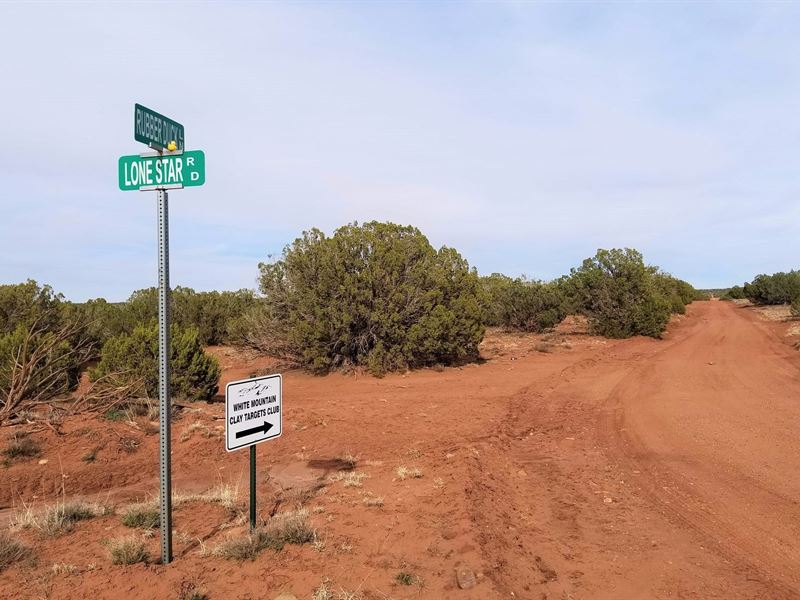 Lot Description
Here's a excellent affordable property you don't wanna miss on.

A beautiful 5.16 acre parcel of vacant land with lots of trees on it, located Rubber Duck Lane in White Mountain Lake.

Super easy access, less than 6 miles from town of White Mountain Lake.

15 Miles from Show Low

As always, we have been to the property and our descriptions are accurate. What you see - is precisely what you get :-)

Lots of this quality seldom come up for sale here, and surely not at this price...

The property is very suitable to either use on occasions for short term retreats in an R V - or to build a home on it.

Be sure to open all the maps attached in files at the bottom of listing, under Land Maps & Attachments.

Property Information:

Apn 404-60-006F Navajo County.

Size: 5.16 Acres. Lot dimensions are 337' X 665' feet.

Terrain: Level to gently rolling with nice tree coverage.

Access: Rubber Duck Lane.

Northwest Corner: 34.41437,-109.92961

Zoning: Ru-1.

Water: Common options for household water would be: A) Drilling a well. B) Have it hauled to a storage tank, available locally. And/or installing a Low-water-use Rain Catchment system which is becoming more popular as well as a very inexpensive option to sustain a home.

Sewer: By installing a septic system upon county approval.

Power: Via Solar.

Time Limit to Build: None

Association Dues: None

Annual Taxes: of Sale:

Purchase price has been reduced to only get started: A Down Payment of + Closing Costs shall be paid via Paypal.

I will send the buyer a Paypal invoice upon being notified you are ready to purchase this property.

We will owner finance the remaining balance of at one of the following 2 options:

A) 24 Months with 0% interest, monthly payment of 36 Months with 5% interest, monthly payment of per month for prepayment of property tax shall be added to monthly payment.

A contract for deed will be sent to buyer upon receipt of Down Payment and Doc Fee.

A discount of and NO interest charged, for paying loan in full within 6 months.

A Contract for Deed will be promptly sent to the buyer upon receipt of Down Payment.

The property will be Deeded to your ownership by a Warranty Deed upon completion of payments.

Note:

I encourage my buyers to use the land while on contract, enjoy it, make small improvements, etc.

I am selling vacant land, not entering into a "Landlord/Tenant" relationship...

That being said, if your intention is to live on this land right away - then you must also pay for it in full right away - 100% use requires 100% ownership.

I need to mention this because I've had a few folks who presumptuously assumed since they paid a few hundred dollars to get into a land contract, they can now "move right in" and do as they please...