Nice, Utilities, Homes, $75/Month
La Costa Blvd : Douglas, AZ 85607
Cochise County, Arizona
Expired Listing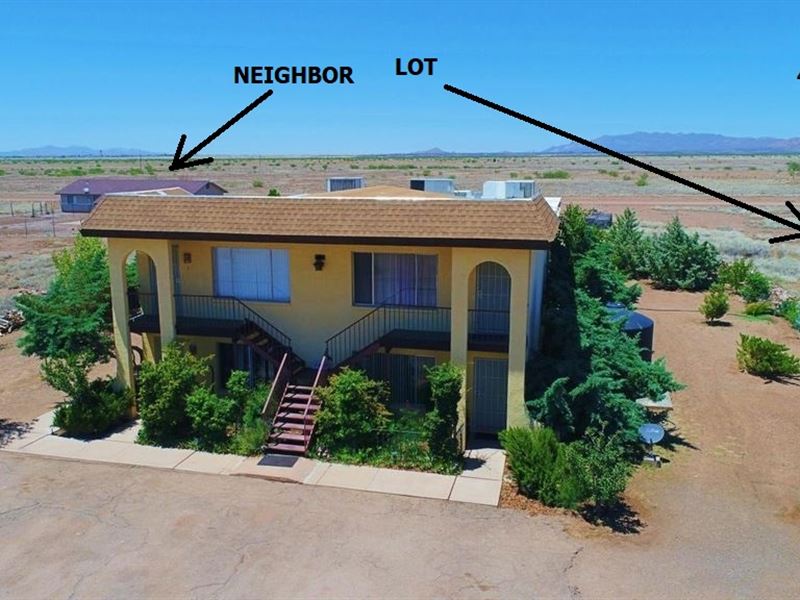 Lot Description
Great deal on a lovely Build-Able vacant lot, 5 Miles North Of Douglas.

This is a quiet Area yet minutes from all amenities in Douglas (which Include A Walmart Super-Center too).

Great investment for your retirement or vacation home-site.

The parcel has paved road frontage on La Costa Blvd, a wide county maintained gravel road.

This lot is approved for any type of Site Built Home, Multi Family Home, Cabin, Modular Home, etc.

Please see actual pictures in gallery above and maps attached in files below.

Underground Electric is at property line.

There are nice and well maintained neighboring homes.

Utility Infrastructure and good access greatly enhances the value and desirability, as well as Resale Value.

Property Details:

Parcel size: Lot dimensions are approx. 86' X 160' feet. Every lot here is marked with Re-Bar pins on 4 corners.

APN: 407-80-592. Legal Description: La Costa Estates Lot 996, Cochise County, Az.

Coordinates NE corner: 31.422578, -109.558988

Zoning: Residential, for ANY Type of Site Built Home, Multi Family Home, cabin, tiny home, modular home etc. There is no time limit to build and no HOA fees.

Road Access: La Costa Blvd.

Power: At property line.

Water: There is a Water Association here with a recently upgraded community well and pumps.

Water lines run through a very limited area of the subdivision. The homes surrounding the parcel are served, thereby may afford the buyer the possibility to also connect. As far as I know the cost is to connect and a month. Buyer's due diligence is required to verify this.

Water Hauling from Maddux and sons in Douglas is another common option here for household water.

Sewer: By installing a septic system upon county approval. Septic systems are not a problem as the soil in the whole region does well for the soil analysis test required for a septic system.

Yearly property taxes are and paid current.

I can finance this purchase on a Contract for Deed at the following terms:

Purchase price: get started: A Down Payment of + Closing Costs shall be paid via Paypal.

I will send the buyer a Paypal invoice upon being notified you wish to purchase this property.

We will owner finance the remaining balance of in 22 monthly payments of per month + per month for prepayment of property tax.

Upon completion of payments, I will record a Free and Clear Warranty Deed - No Back Taxes - Guaranteed.

Note:

I encourage my buyers to use the land while on contract, enjoy it, make small improvements, etc. I want to sell this land, however, I am not interested in being a "Landlord" with "Tenants"...

That being said, if your intention is to live on this land right away - then you must also pay for it in full right away - 100% use requires 100% ownership.

I need to mention this because I've had a few folks who presumptuously assumed since they paid a few hundred dollars to get into a land contract, they can now "move right in" and do as they please...