Excellent, Ez Access, Power, $255/M
County Line Road : Lancaster, CA 93535
San Bernardino County, California
Expired Listing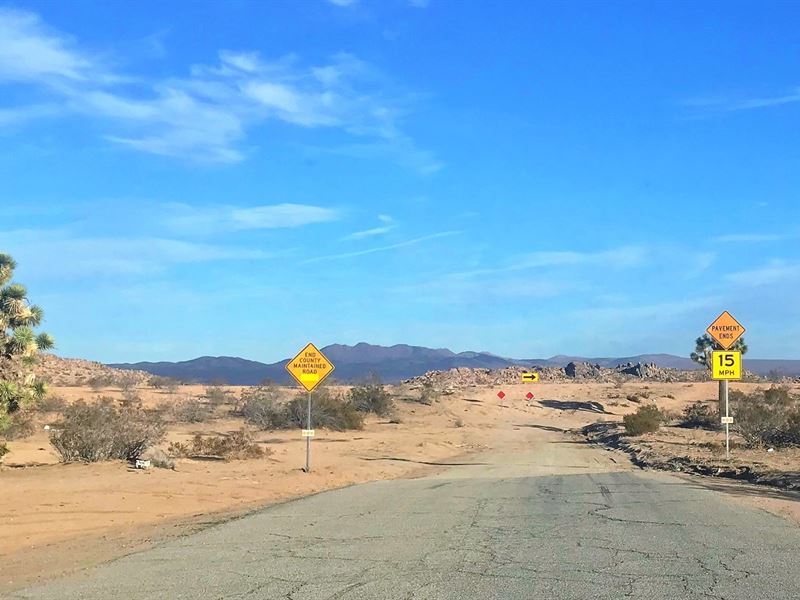 Lot Description
Here's a nice and affordable 5 Acres of pristine Vacant Land on County Line Rd (Aka 260th Street E).

This parcel is in the Adelanto/El Mirage area.

260th Street E is the San Bernardino/Los Angeles County Line.

The parcel is on the east side of the street - therefore in San Bernardino County.

Access is almost entirely on paved roads, whether you're coming from Adelanto, or from Lancaster.

The final approach from Ave J (totaling 3/4 of a mile) is on a dirt road.

As seen in pictures and maps, it has a clear easy access.

Be sure to open all the maps attached in files at the bottom of listing, under Land Maps & Attachments.

Overhead power is on the street right in front of the lot.

This is a wonderful scenic location - Perfect for weekend getaway or for building later on.

Terrain is level with great panoramic views to every direction.

Please take a look at the actual pictures we took of this Nice property - Parcels like this with electric are hard to come by at such an affordable price.

Property Information:

Assessor Parcel Number: 0461-0000 San Bernardino County.

Coordinates to Southwest Corner: 34.683753, -117.667088

Legal Description: N 1/2 W 1/2 S 1/2 S 1/2 GOV Lot 2 OF NW 1/4 SEC 19 TP 7N R 7W EX MNL RTS Reservation OF Record

Size: 5 Acres. Lot dimensions are 330' X 660' feet.

Terrain: Level.

Access: on 260th Street E.

Zoning: Residential.

Water: Common options for household water would be: A) Drilling a well. B) Have it hauled to a storage tank.

Sewer: By installing a septic system.

Utilities: Overhead power line right in front of the lot.

Time Limit to Build: None

Association Dues: None

Title: Free and clear and will be conveyed by a Grant Deed.

Annual taxes: Taxes are paid current.

This property is available with easy owner finance via a Contract For Deed:

Purchase price is shall pay the Down Payment of Plus a Doc Fee of via Paypal to get started.

I will email the buyer a Paypal invoice for upon being notified you you are ready to purchase this land.

Remaining balance of financed via a Contract for Deed. There are 3 options to choose from:

Option A: 1 year 0% Interest - Per Month

Option B: 2 Years 4% Interest - Per Month.

Option C: 3 Years 6% Interest - Per per month to be added for prepayment of property tax.

A Contract for Deed will be promptly sent to buyer upon receiving the initial payment.

A Grant Deed will be issued upon completion of payments.

Note:

I encourage my buyers to use the land while on contract, enjoy it, make small improvements, etc.

We are selling vacant land - not entering into a "Landlord-Tenant" relationship...

That being said, if your intention is to live on this land right away - then you must also pay for it in full right away - 100% use requires 100% ownership.

I need to mention this because I've had a few folks who presumptuously assumed since they paid a few hundred dollars to get into a land contract, they can now "move right in" and do as they please...