Mountain Cabin Property Pushmataha
80H Flat Top Road : Moyers, OK 74557
Pushmataha County, Oklahoma
Expired Listing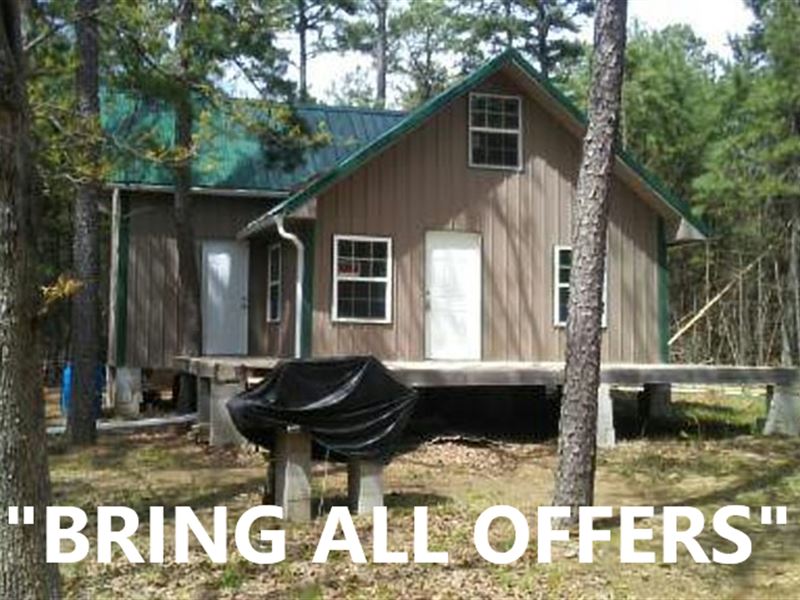 Lot Description
Bring All Offers. Seller Ready To Sell. Seller Will Pay Up To In Closing Bonus To Selling Agent.

Mountain Cabin Property For Sale Pushmataha County Oklahoma

This secluded, new build solar paneled 2 bedroom 1 bath home is a perfect weekend get-a-way. Hunt from your own property, or with access to 10,000 acres of Hunting, Fishing and Hiking in the Kiamichi Wilderness.

The Kiamichi Wilderness is approximately 10,000 acres of land around Big Mountain in Pushmataha County, alongside the Kiamichi River near Antlers Oklahoma. It was purchased & subdivided in the 1970'S by a real estate developer and sold to residents of Oklahoma and Texas as a get-away place for weekend fun. It has grown since then to a vibrant community, complete with a Volunteer Fire Department and a Landowner's association.

It can't get any better than this, so contact us to own your own piece of heaven and seclusion today. 80H Flat Top Road, Moyers Oklahoma 74557. Listed With United Country AltaTerra Realty in Paris Texas

Broker & Commission Disclosure Buyer's Agent/ Broker must be identified upon first contact with Listing Broker/ Listing Agent and Buyer's Agent/ Broker must be present at the initial property tour in order to participate in the real estate commission. Commission splits will be at the sole discretion of United Country Altaterra Realty & Auction, Llc.